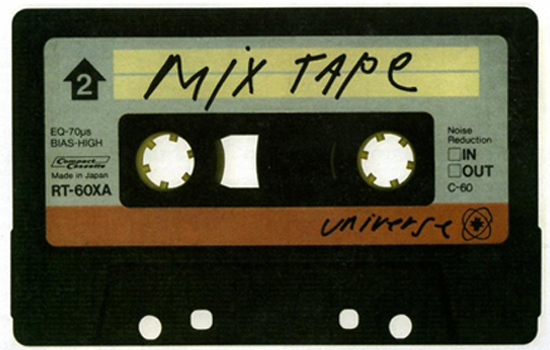 I thought back today that, since I'd just turned 26, it marks the 10-year anniversary of my first driving mixtape . . . clearly the first of dozens that now litter the trunk of my car, desk drawers and various friends' cars. The summer mix is really a right of passage in so many ways (similar to Boone's Farm, waking up outdoors, or pooping in the bar), and as I threw together one more today while waiting for a guy making $500/hr to send me a rough draft (DIE DIE DIE) I thought I should post it - but why just type, when you can share? As I went through the list, I started to realize that each song really made the list for a definite reason, kind of reflecting on summers past and the common garbage we all (used to) do when the weather got warm. It wasn't really that sappy, fuckers, I swear - it's just that obvious.

Phoenix, "Run Run Run"
You have to start with French guys who sound American, ripping off Britpop. Just a great, chill summer-y track, giving a great mix of Beach Boys-esque pop and bizarre, random indie rock lyrical nonsense - perfect opening track, obv.
Sonny Jim, "Keep on Moving"
I've long contended that one of the greatest summer albums ever was the patchwork pastiche of the Avalanches' "Since I Left You" - Sonny Jim updates it here, giving an odd mix of ELO, disco and the Scissor Sisters minus the leather chaps. Feel-good for reals.
P. Diddy, "Tell Me" (Phones remix)
Phones is putting out some great electronica, but none of you care. This song is just a great driving banger - like when you were kids, and you were heading to the party just crazy excited to be out, drinking and having fun. Those days, the anticipation was usually the best part of the party - in the car, rocking some rap, fit about 10 white kids wide into a shitty Buick. Diddy's flow is so shitty in the 'real' version of this song that Phones remixes it in 7/4 time, which makes it SO much better - just feel it, you'll get it even without being all geeky. I'm a nerd, but this is my 'head-nod, laugh in car, prep for a night' track this summer.
Secret Mommy, "Kool Aid River"
Upbeat, bizarre, vocoder'ed - there might be a theme starting with this song. I won't really say. Memories of the water, the pool, golfing, dicking around with no cares - this song brings it right back - and the choppy verses and beat resemble memory in that way, too. Lucky us.
Simian Mobile Disco, "Hustler"
Just like spring breaks, summers usually wind up with anthems. Often, these anthems are shitty techno remixes of Petey Pablo, or Usher tracks that 'get the party moving' when you're one of 10 people in the bar on Wednesday. "Hustler" is like a good version of all those - and the vocals even make you want to sing along a little bit.
Bloc Party, "I Still Remember (SebastiAn remix)"
So this great band puts out a mediocre album with a solid single, about young love. It's about gay boys in England, but resonates with straight boys in America. How do you improve? You send it through SebastiAn, the best producer/DJ on Earth right now - and the chopped-up result is an absolute monster. The song suddenly becomes intense, longing and pressing - everything you remember about those missed chances at house parties in high school, or your co-workers after freshman year, ready to rock the fuck out in the car.
Jack Penate, "Second Minute or Hour"
Oh God - I love it. The sound of lo-fi, upbeat and just happy to be there. How many of those 'great' pseudo-ska tracks from, say, 1997 fit this exact profile, of a happy song about a sad subject, with a sort of hopeful lilt where you know it's just not that big of a deal? Kind of like summer - it's over soon anyway, who the fuck cares?
Ghosthustler, "Parking Lot Nights"
Similar to the SMD track, except geared toward exactly suburban childhood . . . accessible for a techno track (prob b/c it's by American dudes), and more rocking than you'd think, it'll bring you back to sitting at the grocery store lot waiting for everyone else to show up, knowing you're either too cool or not cool enough to be there (but totally unsure of which).
Black Moth Super Rainbow, "Melt Me"
Kind of cheating, because it's explicitly about the summer - but still, Beck has always been the bard of cheap ass beers where I'm from, and these guys are on that same path. Both weird, rocking, melodic and upbeat (and even with some more vocoder to boot), it's total patio music (or putting down the windows at night and getting loud).
Vampire Weekend, "Oxford Comma"
This seems the right spot for it - this track is clearly mandatory. God, it has it all - the best opening line ever ("who gives a fuck about an Oxford comma?"), springy beat, and a Lil' Jon namedrop. Perfection.
Matthew Dear, "Pom Pom"
This song is so '80s it bends my mind - in a good way. If you've ever been "rickrolled" but still listened to the entire track, you'll be way up on this shit - it bounces, drops the beat, then leaves you with some thoughts . . . "It's such a tricky thing/can include diamond rings"? Good/bad/nonsense?
LCD Soundsystem, "Someone Great"
The obligatory summer breakup song - whether it was going back to school, going away to school, or just growing apart under the lazy stars, everyone's been there. Well, "Someone Great" just blows everything else away - a transcendent track, but still upbeat enough to make the tape. RESPEK
Menomena, "Muscle 'n Flo"
A song about being in the middle of everything: of life, of problems, of waking up. The piano line and spaghetti-western guitar interludes add to the effect, giving you that post-hangover sense of thought, then the chorus jars you back to "pick up your hustle" and ending hopeful. Nothing reminds me of my shitty summer jobs more.
Monsieur Leroc, "Cooley McCoolsen"
Nothing screams summer nostalgia like a song that is literally about nostalgia, for better and worse. The beat is simply ridiculous, too, leading to really the summer song perfect storm.
Of M0ntreal, "Gronlandic Edit"
Well, I think this is the best song released so far this year, so obv it's in - but it's more than that, even. The cut between the upbeat song and 'acceptance' of Barnes in his plight, leaving an impression of very 'meh' confusion, paranoia, boredom and longing . . . really, like every boring day when you've already watched SportsCenter, no one wants to golf, and "physics makes us all its bitches."
Prodigy, "Mac-10 Handle"
Dirty ass NYC rap from the more talented of the Mobb Deep guys - just listen to the baseline drag, while Prodigy menaces all over the track. This is every night I spent driving with four buddies while the sober girlfriend got pissed at us (but still took us to get food). The best gangster rap I've heard in forever - "Make it Rain" would make the list too, but you already have that, don't you?
Robyn, "Konichiwa Bitches"
A Swedish chick steals a line from Chappelle's seminal Race Draft skit, then makes a sex song and just randomly throws the line in as the title. It's like "My Humps" for smart people, which pretty much means it's the best song on the CD (at least by theme). If you ever listened to the Thong Song in a shitty beach-themed bar, hook this fucker up.
Apples in Stereo, "Same Old Drag"
Obv.