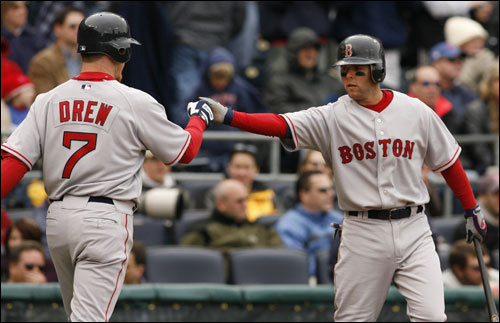 Among other bad things, JD Drew does not get as dirty as some fuckfaced retards (
COUGH COUGH
) would enjoy - he also takes a lot of pitches, almost never swears on the field, practices wikka, has never (to my knowledge) railed a stripper or dragged Jacoby Ellsbury's drunken ass off a bar stool at Fanuiel, and went home to be with his 18-mo.-old son instead of getting wasted on the mound with a naked Papelbon last week.
He did not, however, rape your mother, nor did he rape the Red Sox out of $14 million.
After the dust settled, JD Drew finished with a season-long composite of
.270/.373/.423 (for a .796 OPS) - this is not exactly worth $14 million on the whole, but this compares similarly with such stalwart players as Jermaine Dye (who some idiots wanted to replace Drew at the trading deadline), Miguel Tejada and Michael Young. By most measurements Drew played decent defense (with the exception of Zone Rating, which is always f-ed for Fenway's bizarre RF) to offset the positional issues. He was worth about 4.6 wins according to WARP3, and was certainly a positive contributor for the Sox this season.

More striking, Drew has amped it up in September, to the tune of
.342/.454/.618 (OPS of 1.072). In the second half, he went
.286/.379/.462 (OPS .841), which includes a brutal month of July. If you take away his May and July bed-poopings, he played four months of .900+ OPS baseball - Manny Ramirez has an OPS of just about .900 exactly this season. When you look at that division banner and think about the Yankees' inevitable run this month, you have JD Drew to thank for helping fend off the Scourge's Surge.

With the usual adjustment to the AL, as well as the severe personal issues Drew has gone through, this season and his hot streak heading toward the playoffs should be viewed as a massive positive - booing this man should result in a punch in the anus, when Certified Hard Workers (r) like Trot Nixon struggle to sub-.700 OPS numbers in a platoon role.

So the next time Simmons makes a cheap crack about Drew wilting in a prime role or taking a called third strike think about this:


Drew's OPS for the year: .796
RISP: .784 (league: .780/RS: .829)
RISP/2 out: .831 (league: .753/RS: .792)
Tie game: .863 (league: .764/RS: .825)
Close/late: .763 (league: .723/RS: .745)
Plus, Drew is third on the team in WPA for hitters - if you don't know what that is,
bitch you better ask somebody . . .
Then
, after properly smart-ifying yourself, inform them kindly that they should a.) eat uncooked pork and get trichinosis and/or b.) stop being the Massholiest of all Massholes, and embrace a guy who has worked hard and fought through 2 very tough months to be a productive player who may wind up the centerpiece of the Sox playoff run. If nothing else, his September indicates he could be the middle-of-the-order fixture the Sox wanted him to be for years to come.

JD Drew is not a problem on the 2007 Red Sox. Should the Sox get some breaks, I fully expect to see Drew on the mound, dancing with Paps and looking like these guys: